Child and youth mental health is a growing concern globally, with more children and young people experiencing mental health disorders. In a recent interview, Dr. Nneka Orakwue-Ononye, a Child and Youth Psychiatrist, Assistant Clinical Professor at the University of Calgary, Canada, highlighted the importance of raising awareness about child and youth mental health. Dr. Orakwue-Ononye emphasized that children are not immune to mental health challenges and must receive proper care and guidance to navigate life's complexities.
Dr. Orakwue-Ononye further explained that mental health is not just the absence of a mental disorder but a state of emotional, psychological, and social well-being. Children's genetic makeup and environment play a crucial role in their mental health, and early intervention is essential for improving long-term outcomes. Unfortunately, mental illness is still stigmatized in many societies, leading to a lack of recognition and primary preventative measures. This practice limits the potential of the young person and makes the full burden of mental health disorders unrecognized by responsible governments and policymakers.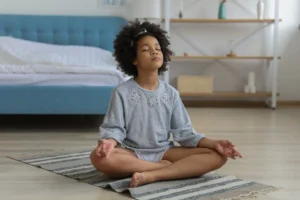 According to the UNICEF and Gallup survey, 1 in 6 Nigerian youth aged 15-24 struggle with mental health challenges, including depression, lack of motivation, and anxiety. Nigerian youth felt the most pressure to succeed globally and were the most concerned about a wide range of issues compared to youth from other countries included in the study. This has serious implications as the lack of means to meet these self-imposed, extraordinarily high expectations will have a continuous toll on their mental well-being. Dr. Orakwue-Ononye emphasized the need for societies to embrace the axiom that every child matters to meet children's lifetime dreams, aspirations, and potential.
Dr. Orakwue-Ononye encouraged families, schools, religious organizations, and all other agencies working with children to seek training and support in identifying mental health disorders in young people. She also called on governments to provide funding and other legal and infrastructural frameworks to support optimum emotional health for young people. The goal is to create an environment that raises awareness of children's emotional and behavioral disturbances and destigmatizes mental illness in youth. This way, early intervention could be achieved, improving the long-term outcome of most mental health disorders and giving children the opportunity to live out their full potential.
In conclusion, Dr. Orakwue-Ononye's "Because WE matter" series on Child and Youth Mental Health sheds light on the need to recognize mental health disorders in children and young people. It emphasizes that every child matters, and societies must create a supportive environment that encourages the early recognition and intervention of mental health disorders. By working together, we can make a difference in the lives of young people and give them the opportunity to live out their full potential.